Robinson and wife, Ginger, have been involved in training medical staff and performing life-changing surgeries on facial trauma and craniofacial patients since 1994 with their 501 (c)3 Face the Challenge. Upon on this milestone for the hospital and the organization, the trip was instrumental to take further surgery and training into the future.
Theo nguồn tin trên trang mạng của Tổng lãnh sự quán Hoa Kỳ ở tại Sài Gòn
DENVER, CO (PRWEB) MARCH 22, 2016
In January of 2016, Randolph C. Robinson, MD, DDS, FAACS, and his wife, Ginger H. Robinson, BSN, RN, Cardiac and Critical Care Nurse, participated in the milestone 25th anniversary celebration of the Odonto-Maxillo-Facial Hospital (OMFH) in Ho Chi Minh City (Saigon), Vietnam. This occasion also marks 22 years of service with the couple's 501 (c)3, Face the Challenge, which has been training surgical staff and serving facial trauma and craniofacial patients in Vietnam since 1994. Together, they and their teams have performed over 1,200 surgeries.
In addition, the OMFH hosted a Scientific Conference where Dr. Robinson lectured on "Preventing and Managing Complications of Facial Surgeries" and moderated a seminar on orthodontics and orthognathic surgery. Medical practitioners from all over Vietnam attended. Presenters included specialists from Taiwan, Japan, Hong Kong, South Korea, the Philippines, South Vietnam and Canada, along with the Robinsons representing the United States.
The celebration is a monument to the acceleration and improvement of Vietnam's health care and to the medical staff's continued commitment to learning and to providing excellent service. As part of that commitment, doors are open to move into the future of opportunities. Dr. Robinson notes: "Our mission with Face the Challenge has certainly been to show the love of Jesus Christ by providing healing to children and adults with deformities, but with a real emphasis on training." The Robinsons have operated alongside Vietnamese surgical teams and have given lectures to provide training. They are now looking forward to teaching beyond the operating table as the Vietnamese surgical staffs' skills and surgical spectrum grow.
The OMFH Director, Dr. Nguyen Duc Minh, and former Oral and Maxillofacial Surgery Department Director, Dr. Le Thi Viet, requested that the Robinsons help the OMFH establish and meet the standards for certification by the American Cleft Palate and Craniofacial Association (ACPCFA). This would make them the first certified cleft clinic in Vietnam. They also hope to develop a multi-specialty cleft team which includes surgeons, anesthesia staff, orthodontists, nurses, audiologists, speech pathologists and social workers, among others. Acquiring necessary equipment is simultaneously part of the project. The OMFH has served infants and children with clefting and now wants to extend care to staged surgeries as patients develop into adults. Mrs. Robinson notes that subsequent surgeries are life-changing: "They often make the difference between poor health, isolation, and few educational and job opportunities, versus a life of hope and being accepted, educated, and productive in their lives."
Being asked to return, speak, and participate in the celebration was a great honor for Face the Challenge and for Dr. and Mrs. Robinson. They are humbled to have been part of Vietnam's progress in the medical field and to continue to participate moving forward.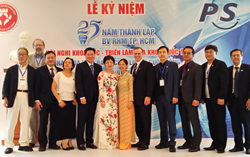 http://www.prweb.com/releases/2016/03/prweb13260475.htm