Theo nguồn tin trên trang mạng của Tổng Lãnh sự quán Pháp tại Sài Gòn
CMT's 6th Starch World Asia – on 16-17 January in Ho Chi Minh – tracks the ups and downs of Asia's starch market – policy reforms to correct China's corn supply glut, impact on South East Asia's cassava exports, raw material price adjustments and Vietnam's emerging cassava feedstock industry.
HO CHI MINH, VIETNAM (PRWEB) NOVEMBER 15, 2016
Asia's only starch summit features topics concerning price impact on Asian Starch Markets by Simon Bentley, Managing Director of Commoditia who also examines the competitive starch raw materials – corn and cassava. He shares vital insights on the pockets of growth in Asia and the impact of feedstock price fall on processors looking to expand in the region. Lief Chang, Senior Analyst at Rabobank reflects on China's Corn Reform Policy and what It means for its corn starch processing Industry. The highly competitive cassava and corn starch feedstock markets are examined in sessions on:
Corn as an Attractive Feedstock for Starch in Asia by PT Tereos Indonesia
Sharing Our Experience & Expansion Plans for Cambodia – Battambang Agro Industry
Finding Added Value from Cassava Byproduct after Starch Extraction: Case Study in Laos – Ministry of Agriculture and Forestry, Lao PDR
Creating Shared Value & Helping to Grow Philippines' Cassava Industry – Our Protomalt Project using Cassava as Feedstock – Nestle
As the world's second largest cassava exporter, Vietnam is the apt venue and major focus for the summit with analysis of its New Policy Agenda for Developing the Cassava and Value Chain Industry presented by Ministry of Agriculture & Rural Development. Vedan – one of the leading players in Vietnam shares its perspective on 'Tapioca Starch and Downstream Industries' in the country, spotlighting on its modified starch and starch syrup development. 'Biotechnology for Sustainable Cassava Production' by Vietnam's Institute of Agricultural Genetics and 'Sustainable Production of Cassava and Challenges on Getting from Farm to Factory' by CIAT are two important discussion topics at the January summit.
Other value added topics are:
R&D Progress of the Key Technology and Equipment of Potato and Sweet Potato Staple Food Processing In China – Institute of Food Science and Technology, Chinese Academy of Agricultural Sciences, Ministry of Agriculture
Non Chemical Process Hydrolyzed Rice Starch and Flour – Hydro Powtech
Enzymatically Synthesized Bioglycogen Derived from Plant Starch for Cosmetic and Food Ingredients – Ezaki Glico
Value Adding the Starch Industry – Starch Based Biodegradable Film – Enviplast Indonesia
Competitive Position of Paraguay's Cassava Industry – Codipsa
Organized by Centre for Management Technology (CMT), an exhibition featuring Paglierani, VetterTec, G – FORCE ASIA and Trislot will be held alongside the summit.
For more information about how to participate as delegate, sponsor or exhibitor, visit 6th Starch World Asia website or contact Ms. Huiyan at +65 6346 9113.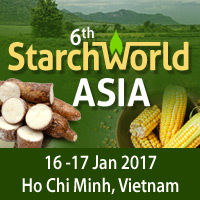 http://www.prweb.com/releases/2016/11/prweb13840673.htm