Theo nguồn tin trên trang mạng facebook.com của Tổng lãnh sự quán Hoa Kỳ ở tại Sài Gòn
Register:
https://mooc-medialiteracy-achcmc.eventbrite.com
Please register with us to participate in our online MOOC Camp English for Media Literacy at https://mooc-medialiteracy-achcmc.eventbrite.com
Course start date: April 10 at https://www.coursera.org/learn/media
Christopher McDonnell, English Language Fellow will lead four discussions. Please share!
Facilitator: Christopher McDonnell, English Language Fellow
The American Center will host five-week discussion sessions for the MOOC Camp English for Media Literacy. Offered by University of Pennsylvania and funded by the U.S. Department of State Bureau of Educational and Cultural Affairs Office of English Language Programs, this course is designed for non-native English speakers who are interested in learning more about U.S. media literacy. In this course, you will explore different types of mass media, such as newspapers, magazines, television, and social media. This course will also give you the opportunity to develop a broader understanding of the role media plays in our lives, while building your vocabulary and giving you the language skills needed to analyze what you read and watch.
Session 1: Monday, April 10, 5:00-7:00pm (Introduction to Media Literacy)
Session 2: Monday, April 17, 5:00-7:00pm (Types of Media: Traditional vs. Social)
Session 3: Monday, April 24, 5:00-7:00pm (Advertising)
Session 4: Monday, May 8, 5:00-7:00pm (Bias in the Media)
Session 5 & Closing: Monday, May 15, 5:00-7:00pm (Diversity and the Media)
For participants who would like to receive a certificate of completion from the American Center HCMC, kindly follow these steps:
1. Sign up for a free Coursera account at https://www.coursera.org
2. Enroll in the free-of-charge Coursera online course English for Media Literacy at https://www.coursera.org/learn/media. Once enrolled, participants will get access to the course syllabus, online materials and quizzes.
3. Watch all video lectures before attending each discussion session at the American Center and complete all the exercises/quizzes of each week lesson.
4. Send an email with the subject "MOOC Media Literacy" to achcmc@state.gov by 12:00am on May 10, 2017. Include the following information in your email: (a) your full name (b) your ID number (CMND) (c) proof of your completion of the online course. Simply take a screenshot of your Coursera MOOC online completion confirmation with your name and the course name on it. This is free of charge. No late submissions will be accepted. We will not respond to email that does not include all the above required information.
5. Attend all weekly discussions at the American Center HCMC.
Notes:
(*) Entrance to the events will be closed at 5:30pm or as soon as we reach the room capacity.
(**) Children under 15 years old are not allowed to attend this MOOC Camp at the American Center.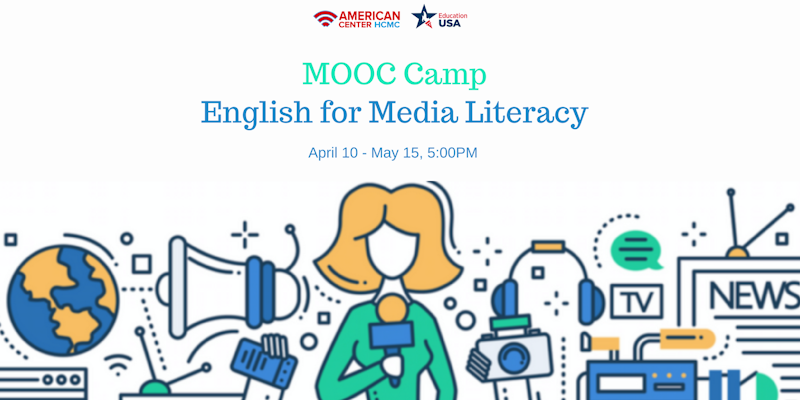 https://www.eventbrite.com/e/mooc-camp-english-for-media-literacy-please-rsvp-tickets-33141570329